Congratulations on your decision to put some thought into your upcoming trade show. Planning ahead helps to insure the best results.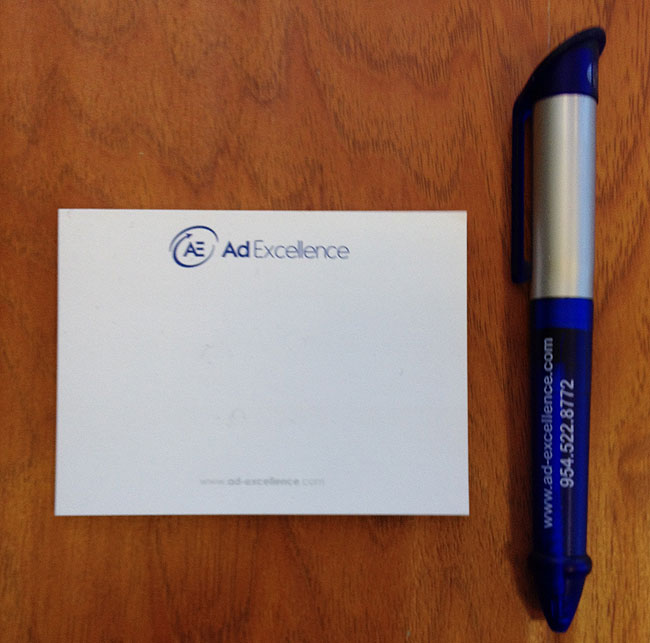 When you give away sticky note pads with a matching pen then you are giving people something useful that they will hang onto for some time. We have seen some at trade shows where the people make their logo so big that the note pad becomes useless. In this example the notepad contains the logo and website address while the pen has the phone number.
Sometimes it can be useful to think about what people in your industry might like and if you aren't careful you could easily end up with the wrong items. For example if you own a construction company and you are a general contractor going to exhibit at a home show which is open to the general public, tape measures are the wrong item. It may seem like a construction company should give away something construction related but this is not the case. People going to the home show wanted to get some type of home improvement ideas or to have a home improvement project completed by a professional. They don't want a tape measure or any other tools. You need the tape measure not the people walking into the home show. If your construction company does a lot of kitchens then maybe our popcorn is the right give away item. Popcorn will draw people into your exhibit booth and once the popcorn is gone then so is the imprinted bag with your contact info. For this reason you need at least second item such as refrigerator magnets, potato chip clips to hold the bag shut or a rubber pad used to remove a tight fitting lid from a jar. To get some ideas click "Search All Products" at the top right of this page and then just type in "jar opener" and you'll see a lot of options that are very inexpensive trade show giveaways.
Real estate agents seem to love giving away key chains and this is useful at the closing if you put the keys on the key chain with your real estate office contact info. Many people already have a key chain with a photo of their spouse or children and they may end up throwing away your key chain. For this reason you may want to offer something else that everyone needs in their home. We have notepads on a magnet so you can stick it on the refrigerator. Imprinted flashlights are always useful and we have LED lights that stay bright for a very long time. Nobody ever throws away a flashlight they just replace the batteries. To get some ideas click "Search All Products" at the top right of this page and then just type in "led flashlight" and you'll see a lot of options that are not as cheap as pens and still very affordable trade show giveaways.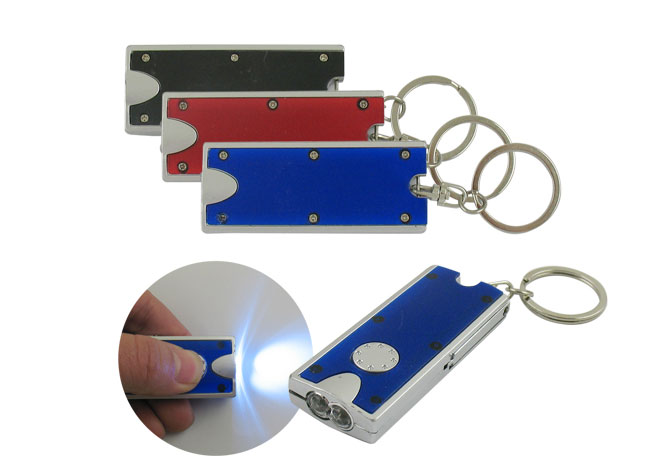 Everyone needs somthing to hold their car and house keys. Be careful that you don't make the mistake of picking a gigantic key chain that serves no purpose but to display your logo. When you have a useful key chain like this one then people don't mind the fact that it contains all of your contact info.
If you sell equipment and your customers are engineers or the people who repair or install the equipment then in that case tools are always a much appreciated gift. To get some ideas click "Search All Products" at the top right of this page and then just type in "screw driver" and you'll see a lot of options. Repair people also love flashlights. Beer can insulators and beer bottle insulators might also be a good idea and they are not very expensive.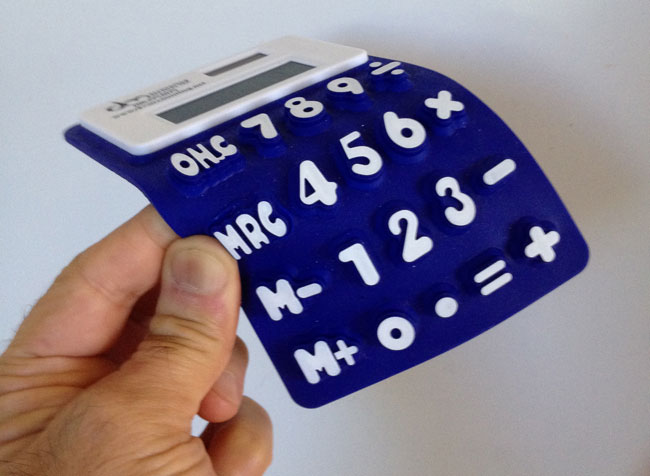 Here's something you don't see everyday; a flexible calculator. The soft calculator with big buttons is inexpensive enough that you won't mind giving them away. It is useful enough that nobody will ever throw it out.
Sometimes we have clients such as bankers and it seems like bankers love to play golf. These clients like to give away golf tees, golf balls and golf tools. The problem is that everyone who has a bank account doesn't play golf. Now if the bank was going to be a sponsor at a golf tournament then yes all of those golf related products are the perfect giveaway items.
A shopping bag is a great trade show give away idea because you'll have everyone wanting a bag. Next thing you know everyone at the trade show is walking around with your logo. It can make your competition want to leave the exhibit hall early.
We have some clients who go door to door offering whatever it is that their company sells. These sales reps are in businesses such as selling bottled water service, business printing services and copy management systems. Typically the sales rep is told to get a business card at every location they visit. Maybe they are required to prove to their employer that they actually went out to see someone. We have had clients who have had great success by giving away a candy jar filled with candy to the receptionist. We imprint the jar with your company contact info and then you show up at least once a month to ask the receptionist if she's ready for more chocolates, mints or jelly beans in the jar. I can assure you the receptionist will not say "no" you will find that you are very welcome there. After a refill or two the receptionist will help you to reach the person you wanted to reach and she will always be happy to see you.
In the healthcare industry clients such as hospitals, chiropractors, dentists and insurance companies like to give away imprinted gifts such as dental floss, children's coloring books, heart shaped stress relievers and pedometers.
Pens and notepads are always popular because they are inexpensive giveaways and they last a long time. Everyone can use a pen or notepad so it is always a good gift.